Welcome to the Kentucky Skills U Lesson Bank!
The Kentucky Skills U Lesson Bank is a repository of standards-based units and lessons created by Kentucky Skills U instructors. Kentucky Skills U has developed a process for lesson acceptance which includes a template with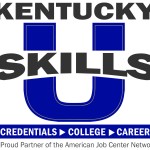 specific guidance on what should be included in each section, and a rubric for scoring. All lessons and units have undergone a rigorous vetting process to ensure they are relevant and appropriate to the adult learner. By requiring the use of the College and Career Readiness (CCR) Standards for Adult Education and the Kentucky Skills U Employability Standards these lessons and units expose students to the critical skills and knowledge expected and required for transition to colleges, technical training programs, and to get and keep a job. For more information about Kentucky Skills U, please click on the logo to the left.
KYAE Skills U instructors and students featured in these photos