Recently, the Lesson Bank added a lesson created by Susie Roberts on applying for the Work Ready Scholarship.  To accompany this lesson, KYAE Skills U wanted to talk with a recipient of this newly funded scholarship.  The Work Ready Kentucky Scholarship pays for tuition for short-term and career-related certificates.  To be eligible, the recipient must meet general requirements, but must also be enrolled or accepted at an eligible postsecondary institution in an approved program of study that leads to an industry-recognized certificate.  Among these programs of study are Kentucky's Top Five Career Sectors; health care, advanced manufacturing, transportation/logistics, business services/IT, and construction.
Layden Howard, son of Leta Martin is currently benefitting from the Work Ready Scholarship. Layden is currently completing his last semester before receiving Combination Welding certificates at Maysville Community and Technical College at the Rowan Campus.  Below are his comments and what it has meant to him to receive this scholarship
"Attending school has been a struggle for me because I never had an interest in anything.  I always wanted to drop out, but one da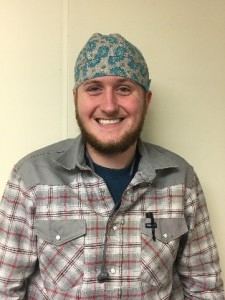 y during my junior year, some friends of mine found out that our high school was doing a dual credit program with the vocational school.  I enrolled as a part-time student in the Welding Program.  After I started welding, I knew that was what I wanted to do for my career pathway."
"I graduated in May 2017 from high school and enrolled full-time at MCTC.  My counselor from Education Talent Search, Mrs. Ann Clayton, had told my mom about the scholarship. Then, during class one day, my welding instructor, Nick Pecco, helped me apply.  When I found out I had received this scholarship, it meant so much to me.  I knew this would help me make my dream of welding come true.  Receiving this scholarship gave me an opportunity to attend vocational school and work toward my welding certificates so I will be able to find a good paying welding job with the skills I have learned. "
"I was asked what advice I could give anyone wanting to do this.  My advice would be finish what you start, take it serious, and put in the work; you will get a good paying job in no time." ~Layden Howard, Welding Student at Maysville Community and Technical College- Rowan Campus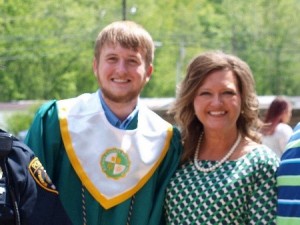 "Layden always struggled with school.  I never gave up and I never let Layden give up because I knew the importance of education.  My parents did not finish school and they instilled in my sister and me to be sure to get an education. I also wanted that for my son.  After becoming interested in welding, he became more interested in school.  Now he is focused on obtaining certificates and that makes all the struggle worth it.  When I found out that my son had received this scholarship I was overwhelmed with gratitude.  I knew this would be a way for him to attend vocational school, receive his certificates, and find sustainable employment.  Through this scholarship, Layden has the opportunity to finish his education. Our struggles often make me think about our adult education students and the obstacles they encounter in life.  We should always let our struggles inspire us to work hard and never give up. I chose to add a picture of Layden and me at his graduation.  He graduated on Mother's Day and that was by far the best gift I ever received." ~ Leta Martin, Coordinator, Adult Education Academy at Morehead State University
Please visit KHEAA and HelpWantedKY.com for more information.  These helpful links provide students more information regarding this scholarship, various career paths, and course listings offered at each institution.